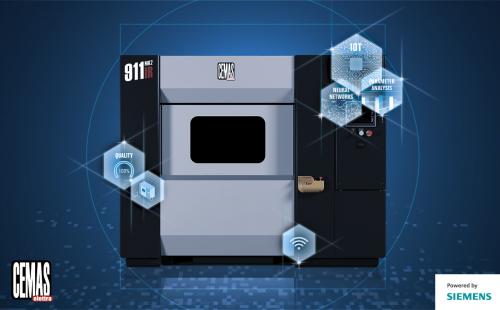 DECEMBER 2019
THE CEMAS WAY TO INDUSTRY 4.0
CEMAS and Siemens together for technological development in the 4.0 area. The system will be available in preview in the Digital Factory Pilot Line of CIM4.0
CEMAS' and SIEMENS' know how
CEMAS Elettra's and Siemens' know-how represents an important resource available to consortium companies and all partners of the CIM4.0 "Competence Industry Manufacturing".
The future of the Industry poses and will pose even more demanding challenges to manufacturers of industrial machinery. In CEMAS we believe that the technological innovation must be a means to improve, facilitate and simplify the production process. In such a context, efficient data analysis can be the determining factor for the success or failure of a company.
Working in synergy with Siemens, nowadays CEMAS is one of the first companies in plastic welding field able to offer a specific and focused "Industry 4.0 services package" for each phase of the production process.
SMART PRODUCTION
Thanks to the so-called "Digital twin" (literally "digital twin") it is possible to digitally replicate a physical entity (it can be a simple or complex object, a resource or a process) and to simulate its operation and performance. The Digital Twin can therefore be used to optimize a product and its production process before investing in physical prototypes and assets.
SMART SERVICES
Thanks to a new generation of IT and technical infrastructures management, during the production process, thanks to Siemens' MindSphere (an open, cloud-based operating system for the Internet of Things) it is possible to monitor and analyse all production parameters, anytime and anywhere and so contributing to process optimization.
SMART ENERGY
Adopting more efficient, economical and ecological infrastructures is one of the main objectives for the industry of the future. An efficient costume monitoring system is the essential starting point for achieving "predictive maintenance". This concept identifies a method that, analyzing production data, prevents errors, asset failures and losses before they are verified. That process is possible thanks to the neural networks (set of algorithms, modeled loosely after the human brain) that identify patterns and predict issues.