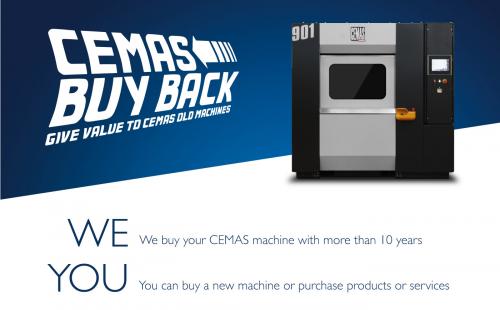 2021-2022
CEMAS BUY BACK
Give value to CEMAS old machines
NEW OPPORTUNITY FOR CEMAS CUSTOMERS
In this period of pandemic we had the opportunity to talk and discuss with our historical customers.
We have found that we are always looking for the optimization of production efficiency but it is often difficult to reconcile this aspect with the budgets for new machinery.
We have decided to offer to all customers who have purchased CEMAS standard machines, before 2011, the possibility of reselling the machine to CEMAS receiving credit for the purchase of new products or services.
PREVENTIVE ACTION TO BE READY FOR FUTURE NEEDS
Thanks to our machines we have been able to meet the needs of our customers who over time have required interesting technical and technological developments.
For example, we have provided feedback on issues such as: increase monitoring of activities, get more reliability and speed, join components of increasing complexity or with integrated electronics.
Ten years ago we designed our machines to meet the needs and performance of a changing production era.
We know how much CEMAS machines, and staff, support you in your daily production needs and we want to support you for the needs of the near future with new and innovative products and services.
WE BUY OUR OLD MACHINES
Our commercial consultants are at your disposal to offer you a free evaluation of the old machines in your plants.
Contact us for more information, we will be happy to help you.
You can contact the sales representative in your area directly, you can find all the information on the contact page.
Or you can send us an email to info@cemaselettra.com or a message via the dedicated contact from.