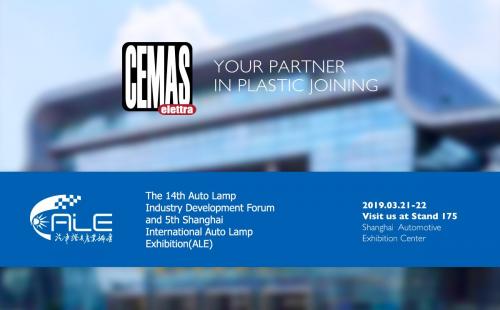 MARCH 2019
CEMAS SHANGHAI AT "ALE"
The "Automotive Lighting Exhibition" will take place in Shanghai from 21st to 22nd of March, 2019
About ALE
Completely dedicated to the lighting sector, with more than 10000 square meters' exhibition hall area gathering 50 influential enterprises, this fair is one of the biggest and highest-level auto lamp professional event, attracting 5,000 professional audience.
In Mar 2015, the 1st edition of "ALE" had achieved unprecedented success with 60 enterprises exhibitors, 600 participants and 5000 visitors in Anting, Shanghai. Nowadays, ALE has become an excellent platform for automobile lamps industry exhibition and technical exchanges, and a resounding name card in the industry.
CEMAS' WELDING TECHNOLOGIES
At ALE fair, for the first time, you will meet our "brand-new" CEMAS Shanghai team! As many know, from the end of 2018, CEMAS gruop "arrived" aslo in China. CEMAS Shanghai team is already "opertive" and soon we will inaugurate the new plant in Shanghai.
For this reason, in this event, we take this opportunity to present to the Chinese companies and suppliers the potential of CEMAS' welding technologies for the lighting industry: from the traditional "hot plate" and vibration technology, to the newest "simultaneous laser welding".
JOIN US!
As always, our team will be at your complete disposal to discuss, share and evaluate your projects. Join us in booth 175!