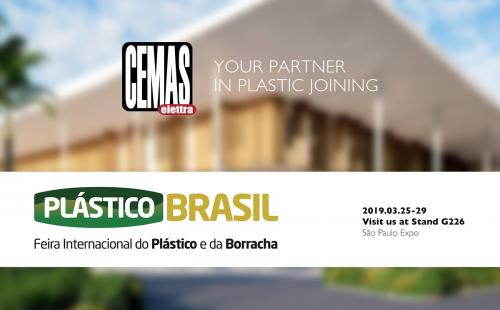 MARCH 2019
CEMAS PARTICIPATES AT "PLASTICO 2019"
One of the leading expositions in plastic and rubber industry, it will take place in São Paulo from 25th to 29th of March
PLASTICO: a reference fair in south-american plastic industry
Plastico si become one of the most important event of 2019 for the plastic sector in South America: more than 600 national and international brands that present their new applications and more than 80 hours of exclusive and relevant content, which adds knowledge and professional qualification.
CEMAS' WELDING TECHNOLOGIES
Given the importance of the event, CEMAS will exhibit some of our top-range application and welding technolgies. A special attention will be focused on laser symultaneous welding and hybrid welding (vibration + infrared). In our booth we are able to show many welded components such as: rear lamps, internal components, spoiler, bumerc and many others.
JOIN US!
CEMAS Brazil team will be fully available to discuss, share and evaluate your projects.
Join us in booth G226 (until 29th of March)!