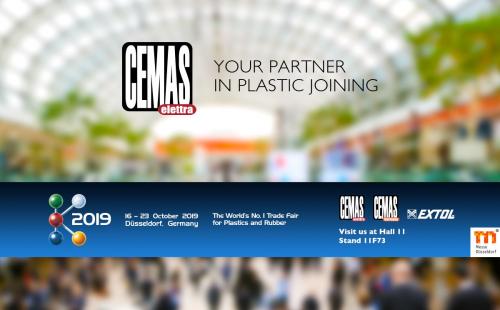 OCTOBER
CEMAS PARTICIPATES AT "K-Show 2019"
The World's N°1 Trade Fair for Plastics and Rubber industry will take take place in Düsseldorf from 16 to 23 October 2019
2019 EDITION
K-Show fair is expected to be the most important event in plastic field of 2019. The numbers of this edition will be impressive: over 3000 exhibitors from more than 60 countries have registered to participate and more than 200,000 trade visitors from all over the world are expected come to the event. Moreover, K-Show will occupy the entire Düsseldorf exhibition grounds with some 175,000 m² of net exhibition space!
CEMAS AT K-SHOW 2019
Like the other past editions of the fair, K-Show 2019 will not be only a "hotspot" for industry experts, but also a source of information for the next generation of industry specialists.
We have chosen this highly professionalized and dynamic context, capable of fostering dialogue and confrontation between "insiders", to present our new technologies and innovations.
Given the importance of the event, CEMAS will exhibit some of our top-range application and welding technologies. A special attention will be focused on our simultaneous multi-fiber laser welding range machines and on our revolutionary new generation of Cemas machines "MK2" model. Moreover, we will expose the Nanostake: the brand- new staking technology patented by Extol Inc. for whom we are the sole distributor in Europe.
Simultaneous multi-fiber laser welding technology
In our booth we will expose two of our simoultaneous lmulti-fiber laser welding machine:
- MF120: this tiny servo-controlled machine can be equipped up to 12 laser sources; the press movement is servo controlled so as to assure an absolute precision and dynamic. Despite the dimensions, it is able to exert a clamp maximum force up to 400 kg! MF120 has been designed with two possible press movement systems: ascending or descending. Thanks to this feature, this stand-alone machine can meet any production requirements.
- MF240: this is the most compact laser welding machine currently on the market and it can be equipped up to 24 laser sources, so it is best solution for Companies that approach laser technology for the first time: moderate investment and excellent versatility. MF240 is suitable for welding small components in double cavity or medium parts in single cavity: such as rear lamps, internal hi-tech electronic components, bezel for headlamp and cluster.
MK2: THE CEMAS NEW GENERATION MACHINES
In our booth we will expose the brand new 911MK2IR: the first model of the revolutionary new generation of Camas machines "MK2". These machines integrate the best features of each CEMAS model: clamp net force and the welding capability of HL model, servo controlled and they can be equipped with the IR.
One of the most important feature of the new generation Hybrid machines is the brand-new servo-controlled system for IR mirror movement. This system, mounted and controlled by the machine, ensures unmatched speed, repetitiveness, accuracy and fluidity in movements (in X and Y axis).
NANOSTAKE
NanoSTAKE® is a revolutionary new staking technology that uses a proprietary Smart Respond™ heating technology to rapidly heat and cool a punch to stake plastic. The low‑current, high‑performance heater heats the punch to a programmed melt temperature in seconds and forms the boss into a stake.
Once the punch reaches the correct height, it rapidly cools to a programmed release temperature and retracts with no sticking. NanoSTAKE uses low current (1.5 A) which allows for quick and easy connections.
CEMAS 4.0 services
Working in synergy with Siemens, nowadays CEMAS is one of the first companies in the plastic welding field competent to offer a specific and focused for each phase of the production process:
- Digital twin: elaboration of virtual model in order to validate its funcioning before its physical manufacture;
- Data collecting and monitoring: data can be consulted and monitored from any device at any time;
- Neural networks & predictive maintenance: preventing errors analyzing production data, asset failures and losses before they are verified.
Moreover, all the machines present in the booth will be connected to Mindsphere: the Siemens' brand-new cloud system that collects, categorizes and aggregates prdouction data, making them available anywhere and anytime.onitoringta collecting & monitoring.
JOIN US!
As usual, our team will be fully available to discuss, share and evaluate your projects.
Join us in stand 11F73, Hall 11 (until 23rd of October)!