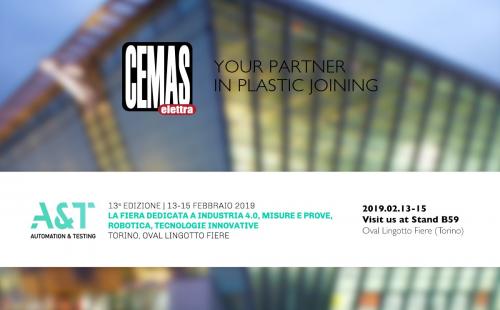 FEBRUARY 2019
CEMAS PARTICIPATES AT "A&T 2019"
It will take place in "Oval Lingotto Fiere" in Turin from 12th to 15th of February, 2019
A&T: the keyword is "innovation"
Started in 2007, "Automation & Testing" is one of the leading fairs in Automation and Testing for the manufacturing industry thanks to its 20.000 square meters of exhibition area, 400 exhibitors, 11 conferences, 54 seminars e speech and 10 speed date. Today A&T is an exhibition that brings together the best technology for production automation and accurate product verification.
CEMAS as partner of the Competence Center
CEMAS booth will be located in the Competence Center area. Indeed, alongside the Politecnico of Turin, University of Turin and Leonardo, CEMAS will be one of the representative partners of the Piedmont Competence Center, the brand-new center of expertise that promotes applied research, technology transfer and training on advanced technologies.
Thanks to the synergy between research and technological application, the Competence Center aims to become a technological and technical reference point in all the areas related to industry 4.0 (Big Data, Internet of Things, robotics, photonics, cybersecurity, new materials, energy efficiency of processes).
CEMAS technology in exposition
In the booth, CEMAS will expose its new simultaneous laser welding machine: the MF240.
MF240 is the most compact laser welding machine of the CEMAS' range and it can be equipped up to 24 laser sources. Despite its dimensions, this machine assures enough power to allow the welding of small parts in double cavity or medium components in single cavity (such as small rear lamps, internal hi-tech electronic components, bezel for headlamp and cluster).
JOIN US!
As always, our team will be at your complete disposal to discuss, share and evaluate your projects. Join us in Stand B59 (from 12th until 15th of February)!