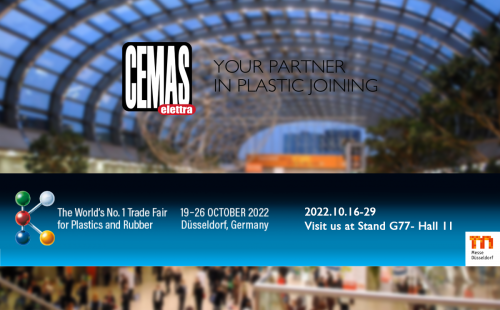 OCTOBER 2022
CEMAS @ K 2022
The World's N°1 Trade Fair for Plastics and Rubber industry will take take place in Düsseldorf from 19 to 26 October 2019
INNOVATIVE INTERFACE
The K will be the occasion to present to the public the innovative interface that will be used on all our standard machines.
We have completely redesigned this system to provide an ideal user experience at every stage of the work.
SIMULTANEOUS MULTI-FIBER LASER WELDING TECHNOLOGY
The MF120, the smallest machine of our simultaneous multi-fiber laser welders, will be on show. Ideal machine for the production of small components, including electronic ones, but also for laboratory tests.
The integration of electronic components into the joining process is possible thanks to the precision and cleanliness of laser technology.
To satisfy even the most stringent and complex requirements, the CEMAS laser system is designed with a completely modular architecture. The technology at the base of the MF120 is also scaled in different models of CEMAS laser machines (MF120, MF240, MF480 and MF960) capable of responding to the different welding needs of small, medium or large components.
VIBRATION WELDING MACHINE WITH HYBRID TECHNOLOGY
Our wide range of vibration welding machines can satisfy any possible welding request, from simple and small components to the most complex and biggest ones.
Hybrid technology (Infrared + Vibration) ensure a perfect joint, in terms of aesthetic and strength.
The introduction of the new MK2 generation allows to combine the production needs of reliability, speed and precision with management needs with the services of Data collecting and monitoring of the 4.0 Industry.
912 IR – BORN HYBRID
In our stand you will have the opportunity to see the 912 IR, the most advanced of the range, combining two of the most complex welding technologies, vibration / infrared, in a compact body.
It is equipped with infrared emitters, housed on the right and left of the press; leaving the rear of the machine v with a rear sliding door to optimize material loading and unloading activities.
By interfacing with anthropomorphic robots, a significant reduction in cycle times can be achieved.
JOIN US!
As usual, our team will be fully available to discuss, share and evaluate your projects.
Join us in stand G77, Hall 11 (until 29th of October)!
Your invitation to K 2022
If you have received a ticket voucher code, enter it in the space below and you will then be redirected to the page with your personal ticket that you can print or download as a mobile ticket. In any case, you will receive your ticket by email.