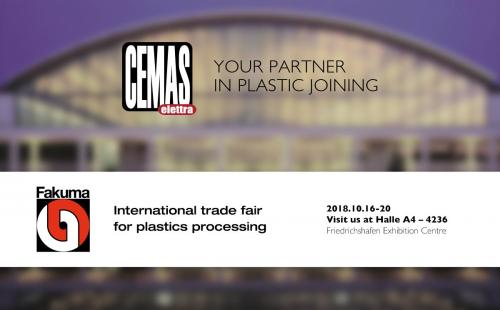 October 2018
CEMAS AT "FAKUMA 2018"
The exhibition will take place in the Friedrichshafen Exhibition Centre from 16th to 20th of October, 2018
FAKUMA: 26Th EDITION
FAKUMA is one of the most important events in Europe in the thermoplastic field, the second in Germany after K-Show. Last edition, at the fair attended more than 1800 exhibitors from 37 countries and hundreds of expert visitors, specialists and decision-makers from more than 120 countries.
CEMAS' LASER WELDING TECHNOLOGY
Given the importance of the event, CEMAS will presents its top-range technology: simultaneous laser welding. Currently, CEMAS laser welding machines are unique on the market provided with a modular system ("one by one" laser sources architecture), to achieve a high level of flexibility and customization.
Working in this way, we can always guarantee the best quality-price ratio, allowing our customers to purchase only the components they really need.
MF240: THE NEW "COMPACT" LASER MACHINE
CEMAS has designed a complete range of simultaneous laser welding machine which can satisfy any production requirement: MF240 (up to 24 laser sources), MF480 (up to 48 laser sources) and MF960 (up to 96 laser sources).
In CEMAS' stand in FAKUMA, will be exposed the smallest machine of laser range: MF240.
MF240 is the best solution for the Companies that approach laser technology for the first time: moderate investment and excellent versatility. Despite its dimensions, this machine assures enough power to allow the welding of small parts in double cavity or medium components in single cavity (such as small rear lamps, internal hi-tech electronic components, bezel for headlamp and cluster).
INFRASTAKE AT FAKUMA 2018
As everybody knows, Extol is the sole distributor of CEMAS's Hybrid welding machines (vibration + infrared) in the United States and Canada and, in the other hand, CEMAS is the sole distributor of Extol's InfraStake technology in Europe and South America.
Even if InfraStake is becoming more and more used in Europe, some companies still don't know this technology. For this reason, in CEMAS stand there will be a small InfraStake machine capable to "stake" small welding samples and so show the advantages of this technology.
JOIN US!
As always, our team will be at your complete disposal to discuss, share and evaluate your projects. Join us in Halle A4 – 4236 in Hall A4 (from 16th until 20th of October)!