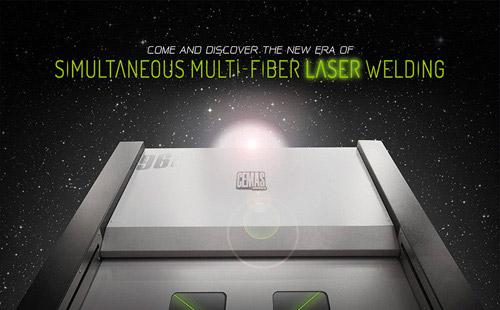 january 2017
CEMAS ENTERS THE WORLD OF LASER WELDING: INNOVATION SPEAKS ITALIAN
We designed and manufactured the brand new "made in Italy" range of laser welding machines
PROPRIETARY LASER TECHNOLOGY
In world preview at K-Show 2016, CEMAS Elettra has exhibited its MF 120, the new laboratory laser welding machine equipped with up to 12 laser sources.
After more than 35 years in the plastics industry, we chose to develop our proprietary laser technology to offer new and innovative technological solutions to our customers.
ONE OF A KIND DIGITAL MODULAR ARCHITECTURE
In order to satisfy even the most stringent and complex requirements, our laser technology has been designed with a fully digital modular architecture. Currently our machines are the only range on the market provided with a single modularity system ("one by one" sources architecture), so as to allow the highest level of customization.
THE BEST QUALITY-PRICE RATIO ON THE MARKET
Thanks to a careful feasibility study, we are able to precisely estimate the number of sources necessary to complete the welding process of a specific product. Working in this way, we can always guarantee the best quality-price ratio, allowing our customers to purchase only the components they really need.
DIFFERENT SIZES FOR EVERY REQUIREMENT
At the moment, our range of simultaneous multi-fiber laser machines consists of five models:
NO COMPROMISE FOR QUALITY
Each machine is entirely conceived and developed by our R&D department and it respects the most stringent qualitative and technical standards. Our laser tools are designed and manufactured in CEMAS main Italian plant, where we also assembly our machines. This production structure allows our engineers and operators to have a complete control over the entire project development.
THE FUTURE IS NOW: OUR LASER MACHINES ARE ALREADY AVAILABLE
No detail is overlooked, because we think big.
We think "so big" that we have already manufactured the first full-equipped example of MF 960, the top machine of our range, which was delivered to our final customer at the end of 2016.