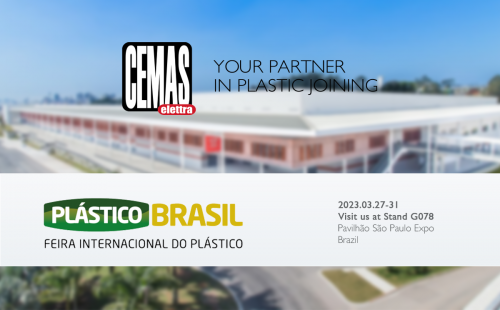 03/2023
CEMAS ELETTRA @ PLÁSTICO BRASIL 2023
See the Latest in Welding Technology
PLÁSTICO BRASIL 2023
Plástico Brasil 2023 is the premier trade fair for plastic transformers, rubber industries, civil construction, food and beverages, automobiles and auto parts, perfumery, hygiene and cleaning, and more. Hosted at São Paulo Expo pavilion in Brazil from March 27 to 31, 2023, the event brings together over 800 major brands from the entire plastic production chain.
CEMAS DO BRASIL
CEMAS do Brasil, one of the largest thermoplastic welding companies in the Americas, will showcase its latest technological solutions at the event. From initial design to final production of complex components, the company assists customers in the most technical aspects of projects, such as dashboards, rear lights for cars and motorcycles, bumpers, and more.
CEMAS MACHINES
At the event, CEMAS will exhibit three welding machines, including an Ultrasonic Welding Machine, an integrated machine with infraStake® technology for constructing mini door panels, and a nanoStake® welding machine for welding gadgets with our laser machines using simultaneous multi-fiber welding.
Visitors will have the opportunity to touch and see examples of welded parts from the lighting and electronics fields to verify the quality of the welds made with CEMAS machines. The company's technologies offer high productivity, aesthetic quality, repeatability, and reliability of the process
MF120 SIMULTANEOUS MULTI-FIBER LASER MACHINE
CEMAS's MF120 simultaneous multi-fiber laser machine, the smallest machine of its kind, will be on display. The machine is ideal for producing small components, including electronic ones, and for laboratory tests. The technology is scalable and can respond to different welding needs of small, medium, or large components.
INFRASTAKE AND NANOSTAKE
CEMAS is the sole distributor of Extol's InfraStake technology in Europe and South America. InfraStake uses specially designed bosses to join two components posed one on the other, while NanoSTAKE® uses a proprietary Smart Respond ™ heating technology to rapidly heat and cool a punch to stake plastic.
JOIN US!
Visit CEMAS's stand, G078, until March 31, to discuss, share, and evaluate your projects with their team.