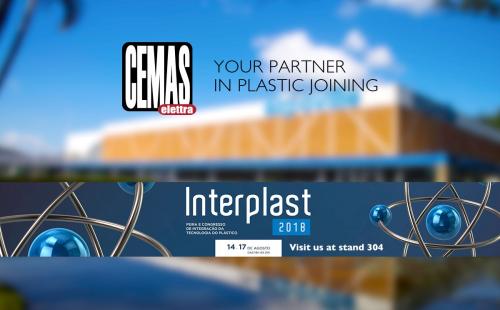 August 2018
CEMAS ELETTRA PARTICIPATES AT "Interplast 2018"
The exhibition will take place in Pavilhões de Expoville, Joinville – SC (Brazil), from 14th to 17th of August
ABOUT INTERPLAST
Interplast is one the most important exhibition in thermoplastic field in South America: in the last edition in 2016, were present more than 21.000 visitors from 23 Brazilian states and 23 countries and 380 expositors from 17 countries all over the world.
NANOSTAKE: THE NEW EXTOL TECHNOLOGY
Extol is the sole distributor of CEMAS's Hybrid welding machines (vibration + infrared) in the United States and Canada and, in the other hand, CEMAS is the sole distributor of Extol's InfraStake technology in Europe and South America.
During this event, Extol will presents its new technology: NanoSTAKE.
NanoSTAKE is a revolutionary new staking technology that uses a proprietary Smart Respond heating technology to rapidly heat and cool a punch to stake plastic. The low-current (1.5 A), high-performance heater heats the punch to a programmed melt temperature in seconds and forms the boss into a stake.
CEMAS TECHNOLOGIES IN EXPOSITION
In the booth, CEMAS will expose different welded components to show the aesthetic result of the different welding technologies: laser, vibration, infrared, ultrasonic, hot plate and gluing.
Particular attention will be given to two most complex welding technologies manged by the company: laser and hybrid (vibration and Infrared) welding.
These two technologies assure excellent aesthetic results and allow to welding components that would not be possible to weld only by traditional welding technology (as vibration or hot plate technology).
JOIN US!
As usual, our team will be fully available to discuss, share and evaluate your projects.
Join us in stand 304 (until 17th of August)!