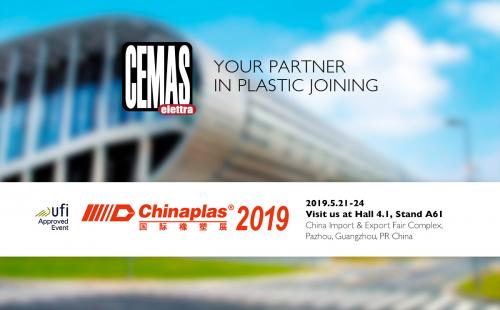 MAY 2019
CEMAS ELETTRA PARTICIPATES AT "Chinaplas 2019"
The exhibition will take place in China Import & Export Fair Complex, Pazhou, Guangzhou (PR China) from 21st to 24th of May
ABOUT 2019 EDITION
This year Chinaplast celebrates its 33th edition! Born in 1987, Chinaplast accompanied the growth of China's plastics and rubber industries for over 30 years and nowadays it has become the second most influential exhibitions in the world, immediately behind "K – Show" in Germany. Consistent with its importance, the expected numbers for the 2019 edition are impressive: 250.000 sqm of exhibition area, 3.500 expositors, 180.000 estimated visitors and 40 exhibiting countries and regions.
CEMAS LASER TECHNOLOGY
For the first time, CEMAS' laser welding technology will be exposed in an Asian fair!
CEMAS has designed a complete range of simultaneous laser welding machine which can satisfy any production requirement, always guaranteeing the best quality-price ratio: MF240 (up to 24 laser sources), MF480 (up to 48 laser sources) and MF960 (up to 96 laser sources).
In CEMAS' stand in Chinaplast it will be exposed the newest machine of laser range: MF240. This machine is the best solution for the Companies that approach laser technology for the first time: moderate investment and excellent versatility. Despite its dimensions, this machine assures enough power to allow the welding of small parts in double cavity or medium components in single cavity.
CEMAS HYBRID TECHNOLOGY
In the booth, in addition to MF240, CEMAS will expose one of its more "iconic" machines: 911IR, equipped with Infrared pre-heating. Pre-heating technology is considered the second-best choice in the lighting welding industry (only following laser welding) and, in particular, CEMAS' 911IR machine is considered one of the most valued and reliable IR pre-heating machines on the market. Given its wide plate and strength, 911IR is ideal for welding components with high aesthetical requirements (medium-large rear lamps) as well as more challenging components (intake manifolds, spoilers, etc).
JOIN US!
As usual, our team will be fully available to discuss, share and evaluate your projects.
Join us in stand A61, Hall 4.1 (until 24th of May)!