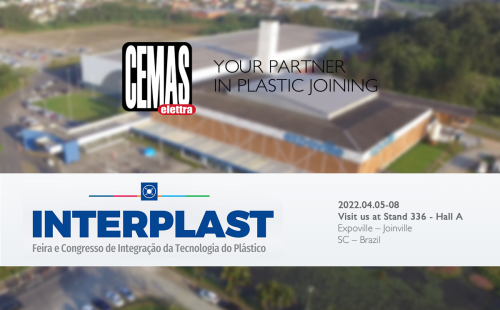 APRIL 2022
CEMAS ELETTRA @ INTERPLAST 2022
The exhibition will take place in Pavilhões de Expoville, Joinville - SC (Brazil), from 5th to 8th of April
INTERPLAST 2022
Interplast is the only trade fair in the sector to bring together the entire production chain of plastic items. this attracts a large and diverse audience from across the industry, resulting in a massive activity, which ensured the fair's success for 10 editions. Also this year CEMAS elettra participates in Interplast presenting innovative thermoplastic welding technologies.
CEMAS do Brasil
Cemas do Brasil is among the largest companies in the Americas in the thermoplastic welding market, the vast experience and the ability to apply the best technological solutions assists customers, from initial design to final production of complex components. It follows its customers from the design to the development of technically complex projects, such as dashboards (complete panels), rear lights for cars and motorcycles, bumpers of any size, among other solutions.
WELDING MACHINES
In our stand three machines will be exhibited in order to show different welding technologies and methods, in particular you will find an Ultrasonic Welding Machine, an integrated machine with infraStake® technology for the construction of a mini door panel and a nanoStake® welding machine with which they will be welded. some gadgets describing welding with our laser machines with simultaneous multi-fiber welding.
TOUCH WITH YOUR HANDS
You will be able to touch examples of welded parts from the lighting and electronics fields, in order to verify the actual quality of the results of the welds made with our machines. We will also show you, in the field of IR welding, the ceramics mounted on our equipment and related welded pieces. The main difference in our technologies is in the high productivity, aesthetic quality, repeatability and reliability of the process.
CEMAS RANGE OF SIMULTANEOUS MULTI-FIBER LASER WELDING MACHINES
We will be happy to present our new technologies and innovations, one above all our new range of simultaneous multi-fiber laser welding machines. Like the MF120 machine part of the CEMAS laser machine range designed with a completely modular architecture. The different models of CEMAS laser machines (MF120, MF240, MF480 and MF960) will be able to satisfy the most varied needs for welding components of scalable dimensions from the bulb up to a 1900mm rear wall lamp. The MF30 module equipped with three laser sources is also available, ideal to be integrated into small welding machines where it is not possible, or it is not convenient, to have a liquid chiller system. Each laser bank, it provides up to 150 W on the component to be welded.
INFRASTAKE AND NANOSTAKE
CEMAS is the sole distributor of Extol's InfraStake technology in Europe and South America InfraStake is a technology that use specially designed bosses (which act as references) to join two components posed one on the other. Once in the right position, the InfraStake modules heat the bosses with infrared light until they are melted. At this point, an unheated punch, driven by a low-force pneumatic cylinder, presses the boss creating the joint. NanoSTAKE® is the new staking technology that uses a proprietary Smart Respond ™ heating technology to rapidly heat and cool a punch to stake plastic. The low ‑ current, high ‑ performance heater heats the punch to a programmed melt temperature in seconds and forms the boss into a stake. Once the punch reaches the correct height, it rapidly cools to a programmed release temperature and retracts with no sticking. NanoSTAKE uses low current (1.5 A) which allows for quick and easy connections.
JOIN US!
Our team will be fully available to discuss, share and evaluate your projects.
Join us in stand 336, Hall A (until 8th of April).