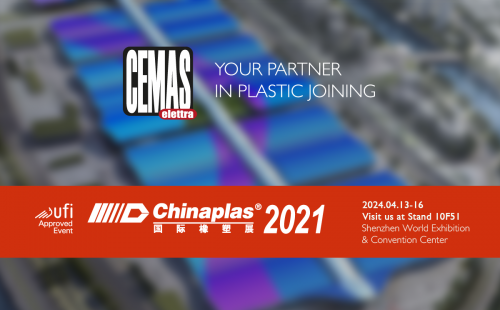 APRIL 2021
CEMAS CHINA AT CHINAPLAS 2021
The exhibition will take place in Shenzhen World Exhibition & Convention Center, PR China (Bao'an New Venue) from from 13th to 16th of April
CHINAPLAS 2021
Also this year CEMAS CHINA will be present at Chinaplas 2021 the 34th International Exhibition on Plastics and Rubber Industries. The trade fair will alternate between Shenzhen (odd years) and Shanghai (even years) in the future, continuing to empower upstream and downstream plastics and rubber companies to uncover greater opportunities in the new phase of China's economic development.
In our booth you will find two machines (911IR and MF120) made by us for joining plastic components. We look forward to meeting you and showing the potential of our welding technologies.
SIMULTANEOUS MULTI-FIBER LASER WELDING TECHNOLOGY
You will see the MF120 in action, the smallest standalone machine of our simultaneous multi-fiber laser welding machines. An optimal machine for the production of small components but also for laboratory tests, which allows the integration of electronic components in the process of joining by exploiting the precision and cleanliness of laser technology.
In order to satisfy even the most stringent and complex requirements, CEMAS laser system has been designed with a fully modular architecture. The different models of CEMAS laser machines (MF120, MF240, MF480 and MF960) will be able to respond to various needs for welding small, medium or large components.
VIBRATION WELDING MACHINE WITH HYBRID TECHNOLOGY
Our wide range of vibration welding machines can satisfy any possible welding request, from simple and small components to the most complex and biggest ones.
Hybrid technology (Infrared + Vibration) ensure a perfect joint, in terms of aesthetic and strength.
The introduction of the new MK2 generation allows to combine the production needs of reliability, speed and precision with management needs with the services of Data collecting and monitoring of the 4.0 Industry.
JOIN US!
Our team will be at your complete disposal to discuss, share and evaluate your projects.
Join us in stand F51, Hall 10 (until 16th of April)!