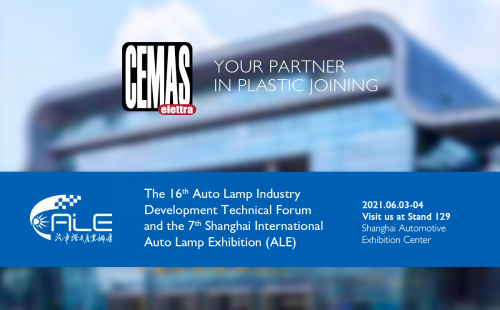 JUNE 2021
CEMAS CHINA AT "ALE" 2021
The "Automotive Lighting Exhibition" will take place in Shanghai from 3th to 4th of June, 2021
ALE 2021
CEMAS CHINA will be present at ALE (Automotive Lighting Exhibition) 2021.
The automotive lighting sector in the post-epidemic era is ready for new challenges.
We are ready to participate in the 16th Automotive Lighting Industry Development Technology Forum and the 7th Shanghai International Automotive Lighting Exhibition (ALE) ", which attracts the attention of the global automotive lighting industry.
CEMAS CHINA
CEMAS CHINA is specialized in solutions for joining thermoplastic components in the automotive sector thanks to different technologies: vibration, hybrid (vibration + infrared), laser and infrared.
Our goal is to provide our customer with the necessary support to reach the most appropriate technical and technological choice for the type of product to be welded.
SIMULTANEOUS MULTI-FIBER LASER WELDING TECHNOLOGY
In our booth we will show the MF120 laser welding technology in action. The use of multi-fiber laser technology allows to achieve junction results with high precision and maximum cleanliness. The process does not interfere with any electronic components pre-installed in the parts to be joined.
The MF120 machine is part of the CEMAS laser machine range designed with a completely modular architecture. The different models of CEMAS laser machines (MF120, MF240, MF480 and MF960) will be able to meet various welding needs of components of scalable dimensions from the small bulb up to a 1900mm rear Applique lamp.
JOIN US!
Our team will be at your complete disposal to discuss, share and evaluate your projects.
We wait for you at our booth no. 129