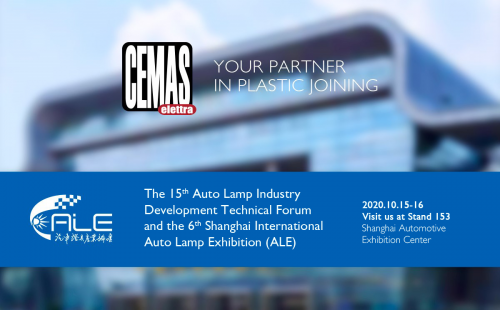 OCTOBER 2020
CEMAS CHINA AT "ALE"
The "Automotive Lighting Exhibition" will take place in Shanghai from 15th to 16th of October, 2020
ALE 2020
With the aim of "building the highest-level platform for technical exchange and product exhibition and promoting the latest development in the auto lamp industry", the Auto Lamp Industry Development Forum and Shanghai International Auto Lamp Exhibition (ALE) has been successfully held for 14 years and still remains true to its original aspiration. After years of development, ALE has grown into the largest, longest-running, the best and the most authoritative event of its kind in China.
CEMAS CHINA
For the second consecutive year CEMAS is present at the ALE fair. The CEMAS China plant located in Shanghai is ready to welcome customer requests in over 1700 m² where our team of experts will show you our machines and the characteristics of different welding technologies in our Showroom.
SIMULTANEOUS MULTI-FIBER LASER WELDING TECHNOLOGY
In our booth you will see the MF120 laser machine at work, this machine ideal to realize both laboratory welding tests or mass-production of small parts can equip up to 12 laser sources.
The laser technology allows to obtain aesthetic and extremely clean welds guaranteeing a repeatable and fast process.
The different models of CEMAS laser machines (MF240, MF480 and MF960) will be able to respond to various needs for welding small, medium or large components.
MK2: THE CEMAS NEW GENERATION MACHINES
The new generation of MK2 vibration machines is the result of a synthesis of the best characteristics of the CEMAS models such as the clamp net force and the space between planes.
This machine expresses its maximum potential in the IR version, in which the new servo-controlled system of IR mirrors ensures unmatched speed, repetitiveness, accuracy and fluidity in movements (in X and Y axis).
CEMAS 4.0 SERVICES
CEMAS in collaboration with Siemens has developed a series of new services for 4.0 Industry
These services allow to implement the production process with:
Virtual elaboration of models to validate the functionality of a project before moving on to physical production (Digital twin);
Collection, categorization and aggregation of production data immediately usable by any device (Data collecting and monitoring);
Preventive reporting of maintenance activities to be performed on the machine, made possible by the continuous analysis of production data (Neural networks & predictive maintenance).
JOIN US!
Our team will be at your complete disposal to discuss, share and evaluate your projects.
We wait for you at our booth no. 153