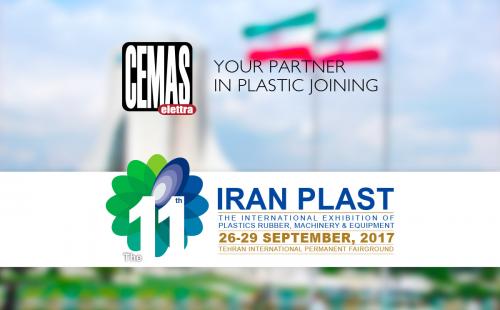 september 2017
CEMAS PARTICIPATES AT "IRANPLAST 2017"
The most prestigious exhibition in Iran in the fields of raw materials, machinery and moulds, auxiliaries and services for plastics and rubber industries. It will take place in Tehran from 24th to 27th September
ONE OF THE MOST NOTABLE PLASTIC FAIR IN THE MIDDLE EAST REGION AND ASIA
IRANPLAST, since its first edition in 2002, had clearly proved to be one of the fair with the greater potential in the plastics industry. Since then, more than 4000 companies from Iran and other countries have participated at the event.
IRAN AS AN "HUB FOR INTERNATIONAL BUSINESS"
Iran, with 75 million population, besides to offer a great internal consumer market, can be considered as a multi-axis bridge which connects, on one side, the cis lands to the countries in the southern parts of the Persian Gulf and, on the other side, with the Far-East countries, Middle East and Central Europe.
THE NUMBERS OF LAST EDITION
The good success of IRANPLAST 2016, with 920 expositors from all over the world and more than 30,000 trade visitors, is an excellent prospect for this edition. indeed, the event organizers have declared that "it is expected that more than 800 Iranian and non-Iranian companies and organizations gather under one roof in order to exchange their scientific & technical knowledge, technologies, potentials and demands and finally create a fully win- win business."
JOIN US!
As always, our team will be at your complete disposal to discuss, share and evaluate your projects.
Join us in booth 38C110, Hall 38 (until 27th of September)!