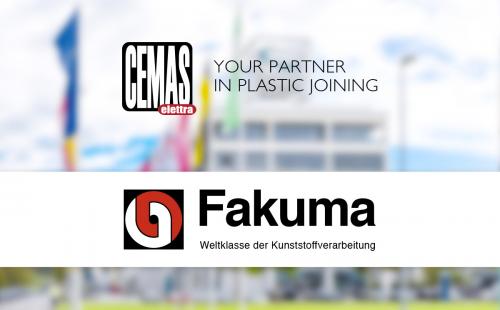 october 2017
CEMAS PARTICIPATES AT "FAKUMA 2017"
The world's leading technical event for industrial plastics processing. It will take place in the Friedrichshafen Exhibition Centre from 17th to 21st of October, 2017
HAPPY BIRTHDAY FAKUMA
This year FAKUMA will celebrate its 25Th anniversary! Started as a small event, nowadays FAKUMA is the second plastic technology fair in worldwide rankings and the first one in the field of plastics processing by means of injection moulding. In order to celebrate this important anniversary, more than 1800 exhibitors from 37 countries will attend the exhibition, which will be located in 915.000 square feet of overall exhibition floor space (the maximum occupancy ever reached).
FAKUMA AS AN "INNOVATIVE ENGINE"
FAKUMA is the only technical event in the world to focus on all currently relevant technologies for plastics processing: injection moulding, extrusion, thermoforming and 3D printing. The most characteristic aspect of FAKUMA, compared to all the other fairs in plastic, is its "problem-solving" orientation. Indeed, FAKUMA offers the users a "practice-oriented" information, communication and procurement platform for technical solutions, covering a great variety of challenges in the field of manufacturing engineering.
"PLASTIC MEETS BUSINESS"
The organizers of the fair promise a great edition that will also count on 38 individual presentations (including six on the issues of recruiting, basic and further training). As declared on the official website of the event: "in keeping with the anniversary motto, «Plastics meets business», the supplementary programme will round out the exhibition offerings by presenting FAKUMA 2017 as an integrated information, communication, procurement and business platform, and as the industry event of the year".
JOIN US!
As always, our team will be at your complete disposal to discuss, share and evaluate your projects. Join us in booth A4 – 4236 in Hall A4 (from 17th.until 21st. of October)!