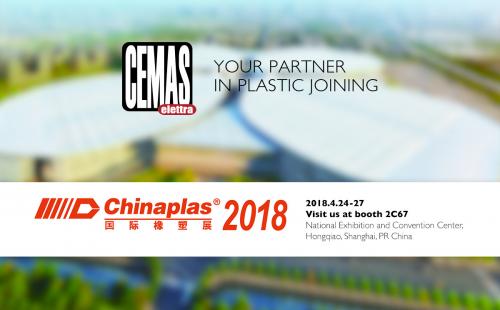 April 2018
CEMAS PARTICIPATES AT "CHINAPLAS 2018"
Founded in 1983, nowadays is one of the most influential exhibitions in plastic and rubber industry and it will take place in Shanghai from 24th to 27th of April
THE LARGEST PLASTICS AND RUBBER TRADE FAIR IN ASIA
CHINAPLAS is the largest plastics and rubber trade fair in Asia and the 2nd most influential exhibition in the world (surpassed only by "K Fair" in Germany, the world's premier plastics and rubber trade fair). The numbers of the 2017 edition are impressive and confirm its growth trend: 3.487 expositors, 155.285 attracted visitors, 282 buyer delegations and 38 exhibiting countries and regions.
CHINAPLAS 2018: NEW LOCATION
CHINAPLAS 2018 will be held for the first time at the National Exhibition and Convention Center (NECC) in Hongqiao, Shanghai. NECC is the largest single block building and exhibition complex in the world, with 400,000 square meters of indoor area, including 13 large and three small exhibition halls. This massive relocation project is equivalent to moving 4,000 houses to a new place at the same time. Thanks to this relocation, the exhibition area will exceed 320.000 square meters - 30% more exhibition space than that of the 2016 edition of the show in Shanghai.
911 IN EXPOSITION
Given the importance of the event, we expose one of our most popular vibration welding machine: the 911, the most versatile machine of its range, which comes in 4 versions (ST, HL, IR and SC) and can be customized with 50 different accessories to meet the most stringent requirements for full customer's satisfaction.
JOIN US!
As usual, our team will be fully available to discuss, share and evaluate your projects.
Join us in booth 2C67 (until 27th of April)!