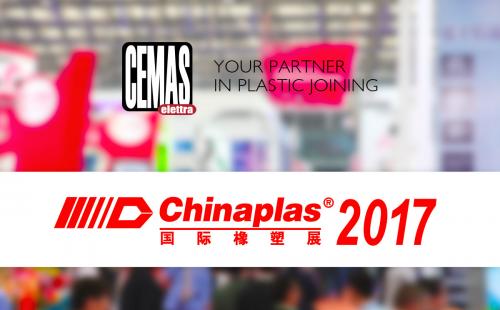 may 2017
CEMAS PARTICIPATES AT "CHINAPLAS 2017"
This is the second most influential exhibition in the world in plastic industry, and it will take place in Guangzhou from 16th to 19th of May
THE LARGEST PLASTICS AND RUBBER TRADE FAIR IN ASIA
With over than 3,300 expositors and about 148.500 attracted visitors (data from edition 2016), "Chinaplas" is the largest plastics and rubber trade fair in Asia and the 2nd most influential exhibition in the world (surpassed only by "K Fair" in Germany, the world's premier plastics and rubber trade fair).
"UFI APPROVED EVENT"
After accompanying the growth of China's plastics and rubber industries for over 30 years, "Chinaplas" has been certified as a "UFI Approved Event" by the Global Association of the Exhibition Industry (UFI), an internationally-recognized representative body of the international trade fair sector.
911 IN EXPOSITION
Given the importance of the event, we expose one of our most popular vibration welding machine: the 911, the most versatile machine of its range, which comes in 4 versions (ST, HL, IR and SC) and can be customized with 50 different accessories to meet the most stringent requirements for full customer's satisfaction.
JOIN US!
As always, our team will be at your complete disposition to discuss, share and evaluate your projects. Join us in booth 4.1 A61 (until 19th of May)!