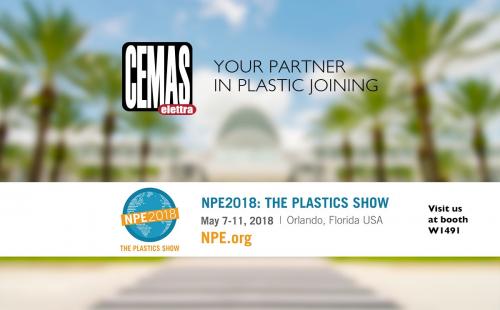 May 2018
CEMAS ELETTRA PARTICIPATES AT "NPE 2018"
The exhibition will take place in Orange County Convention Center (OCCC), Orlando, Florida (USA) from 7th to 11th of May
ABOUT NPE
NPE is considered one of the most important events dedicated to plastic industry. The numbers of last editions demonstrate its great relevance: 65.000 active buying teams from over 100 countries, 2.000 expositors and more than 20.000 companies, comprising the entire global plastics supply chain and the full range of end-user markets.
CEMAS END EXTOL AT NPE 2018
Extol is the sole distributor of CEMAS's Hybrid welding machines (vibration + infrared) in the United States and Canada and, in the other hand, CEMAS is the sole distributor of Extol's InfraStake technology in Europe and South America.
This partnership was born in 2017, but NPE will be the first opportunity to introduce this commercial agreement to the public. For this reason, CEMAS and EXTOL will attend at NPE 2018 together.
911IR IN EXPOSITION
Given the importance of the event, in the booth will be exposed of the CEMAS's top-range Hybrid welding machine: the 911 IR.
Thanks to the integration of two of the most complex welding technologies (vibration and Infrared) in a single, compact and body, this unique machine can weld with excellent aesthetic results, components that would not be possible to weld only by vibration technology.
JOIN US!
As usual, our team will be fully available to discuss, share and evaluate your projects.
Join us in booth W1491 (until 11th of May)!